Be Covid-19 safe
Enjoy a great experience at The Lights and be Covid-19 safe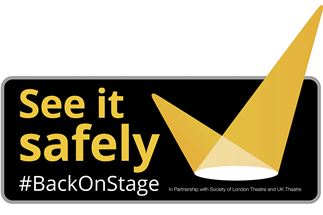 Please note that the venue is currently closed to the public, and is operating as a Covid vaccine centre. We will be back and open to the public from Monday, 27 September for classes, shows, Box Office enquiries in person and the Arena Cafe Bar.
When the venue re-opens we want to ensure that you enjoy a great experience at The Lights, secure in the knowledge that we have made the venue as Covid-19 safe as possible. On this page you can read about the steps we have taken, and what we ask of you.
Although the venue is closed to the public until 27 September, the Box Office is open for telephone only enquiries from 10am - 2pm Monday-Saturday: 01264 368368, and you can also book tickets online: www.thelights.org.uk
Prior to visting the venue for shows - both indoor and at our external outdoor locations, please read these guidelines so you know what to expect:
Please do not come if you have been asked to quarantine or are unwell or have any Covid-19 symptoms, or are in a household where there are symptoms:
a high temperature
a new, continuous cough
a loss of, or change to, your sense of smell or taste
We can offer full refunds or vouchers or a transfer to an alternative show for audience members who are unable to attend providing that you notify us before a show commences.
The Lights will open one hour before the start of the performance to allow time for people to arrive naturally and minimise queues. Entrance will be via the main doors only.
There are hand sanitiser points as you enter the venue and at strategic points around the building. Please ensure that you use these upon entrance and as you move around. Please ensure you wash your hands thoroughly after visiting the toilets.
You will find copies of the NHS track and trace posters around the venue to allow you to zap the QR code if you have the app.
To minimise points of contact we ask that you print your tickets at home if possible, or show your ticket on your phone screen or tablet.
We have moved to accepting payment by card only. If you are unable to pay by card then please flag this in advance to the Box Office or Duty Manager
Please wear a mask or suitable face covering whilst you are in the venue. We will have a limited number of disposable face masks available in case of emergency, but please endeavour to bring your own. Children under the age of 11 or those unable to wear one for health or equality reasons are not required to wear a face covering. We ask that all customers remember that not everyone is able to wear a mask and the reason for this may not be immediately visible.
There will no longer be a cloakroom facility available. Please note that large bags and rucksacks are not allowed in the auditorium. Please speak to a member of staff if there is a storage requirement, although we would ask that you try where possible to limit the amount of baggage you bring with you on a visit to small personal items only, e.g handbag or laptop case etc.
Wet umbrellas can be placed in the umbrella stand inside the main doors.
Please maintain social distancing as you move around the venue and be mindful of respecting your distance from others outside of your social bubble.
Attend in a bubble of a maximum of six people.
Peace of mind booking:
In light of the impact of Covid-19, we have reviewed our refund policy to help ensure peace of mind booking for customers when booking future shows.
Our revised refund policy seeks to clarify the terms on which you are buying a ticket and, if necessary, when you can claim a refund.
Full details of the Covid-19 refund policy can be viewed in the attachment to the right of this page.
How we will also be keeping you safe:
We have made lots of changes within the venue to make sure that you are as safe as possible during your visit, but that it remains a positive customer experience. If you have any queries or suggestions then please do let the Duty Manager or Box Office know.
As well as asking you to be mindful of guidelines staff and volunteers at the venue are:
Wearing masks when in the public areas of the venue
Undertaking regular cleaning and additional wiping down of all regular touch points and toilets etc
Reducing the number of people who can use the venue at any one time or event.
You will notice that we no longer have leaflets or brochures on display to minimise rehandling. If you require a particular show leaflet or a copy of our season brochure then please let a member of staff know and we will be happy to provide one if available.
You will note that the cafe remains closed until Monday, 27 September.
As the venue re-opens we will publicise bar openings and timings individually for each pilot show on the associated event page.
There will be no intervals during shows.
There will no longer be a pre-loved book table in the venue to avoid unecessary touch points and handling.
Please respect our staff and other audience members by abiding by our guidelines, helping to keep us all safe and well.
If you believe that you will have difficulties adhering to any of our guidelines then please let the Duty Manager or Box Office know, preferably in advance of your visit, but if not, upon arrival at the venue. Any customers who do not comply will be asked to leave and will not be offered refunds on their tickets.
See it Safely
The venue is delighted that in recognition of all the work we have carried out to ensure the venue is Covid-secure we have been accredited with the Society of London Theatre's and UK Theatres' See it Safely charter mark.
Outdoor Performances
The venue is managing a number of outdoor performances at locations around Andover during the summer period. Timely and specific Covid guidance will be issued to bookers prior to each of these performances in line with the most up-to-date Government guidance at that point. If you have any queries then please contact the Box Office by telephone or email: stop@thelights.org.uk for assistance.
A warm welcome
The landscape around us may still be changing, but you can be assured that our usual customer service and friendly faces remain the same. We want your experience at The Lights to be a positive one and cannot wait to be able to welcome you back - albeit for limited shows and events at the moment.
The Lights team