How to Book and Pay
Booking Information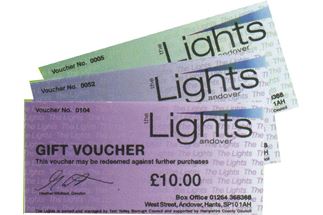 Online - available up to 24 hours prior to a performance - after that time please contact the Box Office (Please note we charge a £1.20 non-refundable booking fee when booking online) Please note that you will be booking through an external provider: Tickets.com
Click here to go to the what's on pages and on-line booking.

By Phone - 01264 368368 (answer phone outside Box Office hours) From Monday, 18 January, Box Office will be open to telephone calls only Monday-Saturday from 10am - 2pm

In Person at the Box Office - currently unavailable due to Covid-19 restrictions - telephone only (see above)

By Post - The Lights, West Street, Andover, Hants, SP10 1AH
Ways to Pay:
Card
Cheques
Lights Gift Vouchers
Please note that we request that transactions are now made by card, to avoid cash handling post Covid-19.
Ticket types available:
T = Standard Ticket P = Pullman Seat C = Concession SM = Spotlight Member FT = Family Ticket (2 adults and 2 children) SCH = School Ticket CH = Children
Collection of Tickets: All tickets will be held at the Box Office for collection unless postage has been requested for which we charge 90p per booking. Customers also have the option to have a 'print at home' ticket when booking on-line. Please check your booking confirmation or tickets as mistakes cannot always be rectified.
Ticket prices: You'll find our tickets are competitively priced - why not consider the comfort of a Pullman seat for an extra £1 per seat. Please note that concessions are not available on Pullman seats.
Gift Vouchers: Gift Vouchers are available from the box office in £1, £5, £10 or £20 denominations. Vouchers may be exchanged for either shows or workshops or in the Arena Cafe Bar. We do not usually post gift vouchers unless expressly requested, as they are not replaceable if lost in the post.
Reservations: Reservations will be held for 3 days. If payment is not received in time reserved tickets will be released for sale.
Exchanges & Refunds: Please note that once purchased tickets generally cannot be exchanged or refunded. However due to the Covid-19 pandemic we can offer peace of mind booking which will allow you to book in advance safe in the knowledge that if the show is cancelled due to covid-19 related issues then we will provide a refund, gift vouchers or transfer to another show.
Concessions: We offer concessionary tickets as published. Unless otherwise stated, concessions are available to children under 18, those in full-time education and those in receipt of state benefit including senior citizens aged 60+. Proof of entitlement may be requested. Only one concession or offer is applicable per ticket. Please note that the venue reserves the right to run promotions and offers on tickets which cannot be retrospectively applied to tickets already purchased at the full price.
Group Bookings: Group discount are available for most shows. Buy 10 tickets and you get the eleventh free.
Special offers: The venue reserves the right to introduce special offers at any time, and these cannot be applied to tickets already purchased.
Family Tickets: Children under 2 may be admitted to the auditorium for family shows as part of our Babes in Arms policy, and can sit on an adult's lap.
Please note that booking fees are non-refundable.
Ticket re-sale: The re-sale of tickets by retail or on-line auction site by anyone other than The Lights is strictly prohibited and may render the ticket invalid. If a show has a waiting list then we will endeavour to sell your ticket(s) on for you and refund in vouchers if successful.
Ticket restrictions: There may be a restriction in ticket numbers per household for specific shows. This will be indicated on the website and at the Box Office. The venue reserves the right to cancel tickets purchased in excess of the maximum number, without notice, unless this was due to our mistake.
Latecomers: Once a performance has started latecomers will only be admitted to the auditorium at the discretion of the Duty Manager.
No-smoking: Please note that The Lights is a non-smoking venue, including the use of e-cigarettes.
For more information about using the venue and our general terms please read the 'Things to Note' document attached to the right of this page.