Fred The Cat's Magical Monthly Story Club - The Smeds and the Smoos
Seated arena event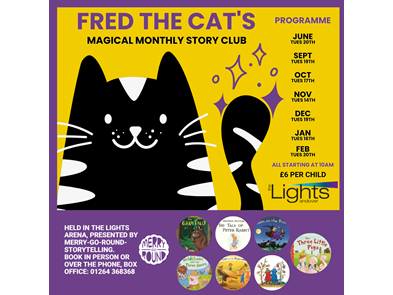 Description
Fred the Cat's Magical Monthly Story Club is an exciting new club for the under fives at The Lights Theatre in Andover.
Once a month Amanda from Merry-go-Round Storytelling will bring to life a favourite story or classic tale with music, movement, early years drama, and lots of imaginative fun. These interactive storytelling sessions are perfect for inquisitive minds and anyone who just loves stories. Sessions will include sensory props and a chance for all children to pretend to be the characters from their favourite stories.
Who is Fred the Cat?
Fred the cat is Amanda's gentle cat puppet who lives in a magic hat!
Children love Fred and Fred loves stories. Fred will introduce the story for each session. There will also be regular club resources of downloadable colouring sheets and simple crafts which will relate to each story.
This event is for 2-5 year olds. With a limited amount of spaces, we would encourage all parents to book in advance across the 6-month programme, to avoid disappointment. Please book via the telephone: 01264 368368 or in person at The Lights.