Atrium cafe bar
A great place to meet friends, colleagues or business clients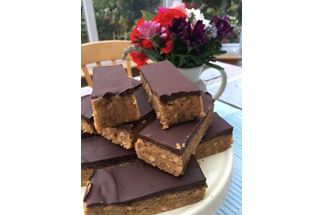 All year round we are pleased to offer:
A fresh eat in and take away menu - sandwiches and toasties made to order
Cake and hot drink loyalty scheme
Live music for your enjoyment
Free Wi-Fi facility
Cakes freshly baked in-house
Cafe Bar opening times:
Monday: 10am - 5pm
Tuesday: 10am - 2pm
Wednesday: 10am - 5pm
Thursday: 10am - 2pm
Friday: 10am - 2pm
Saturday: 9am - 2pm
So, if you're shopping in town, meeting a colleague or business client, or want to catch up with friends why not consider dropping in to sample our artisan coffee from Moonroast and delicious homemade cakes or a light lunch. Our licenced bar is open too.
Evening Show Service
The bar is open an hour before a show on performance evenings and during the interval, and is the place to meet friends and fellow theatre goers. Please note that the bar will be closed after the interval.
A small range of sandwiches, rolls, toasties and cakes are available prior to evening shows.
On summer evenings the canopied deck is the perfect place to enjoy a glass of chilled wine, a G&T or a long cold beer. Drinks may be enjoyed before, after, and during most performances at The Lights. Look out for our regular special promotions including guest beers, cocktails and feature flavour ice creams!
Interval drinks may be ordered at the Bar prior to evening performances.
The Atrium Cafe Bar will be closed to the public on a variety of days throughout the year for private events. These will be signposted in advance in the Atrium cafe bar.
Please note that dogs are not admitted to the venue or the cafe bar unless they are assistance dogs.
Spotlight Members and Lifestyle card holders will also enjoy a 10% discount on food and drinks (excluding alcohol) on production of a valid membership.
Please note that the cafe will be closed for Blood Doning on Monday, 30 May and Thursday, 7 July, 2022.