Art Works at The Lights
The venue is home to several stunning pieces of public art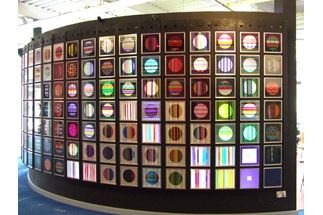 Funding from the Arts Council England, Test Valley Arts Foundation and the Joint Investment fund enabled The Lights to commission artists of national standing to develop innovative pieces of public art, both on the approaches to the venue and to enhance the landscaped gardens and the building itself. Lee Filters and The Lights also received an investment from Arts and Business to further develop their creative partnership.
Malcolm Buchanan-Dick's "Light Tree", is a landmark sculpture sited in the landscaped area at the entrance to the venue. This unique piece features 5 screens each capable of displaying text, pictures or movie clips. At 8 metres high you will not miss it!

Sited in the foyer of the venue Malcolm has created a "Light Wall" in conjunction with Lee Filters of Andover. Movement sensors built into the wall trigger a lighting sequence as you pass by - well it is The Lights!

Caroline Cardus has designed a delightful range of visual and tactile signs which are based on symbols known to deaf and blind people, and which will help them navigate around the building. Discrete and artistic they add a new dimension to an already exciting venue!
We are most grateful for the support of the following organisations:
Test Valley Arts Foundation
Arts Council England
Lee Filters
JIF Partnerships
Arts and Business South East working together