Ninebarrow
Seated arena event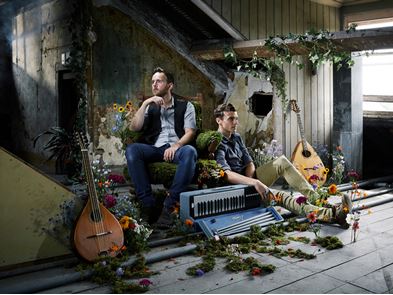 Description
Ninebarrow are a multi-award-winning folk duo, who are impressing audiences across the country with their innovative and captivating take on the folk tradition. Described by Mark Radcliffe as sounding 'like two halves of one voice' and by Kate Rusby as 'absolutely amazing', Jon Whitley and Jay LaBouchardiere combine breath taking vocal harmonies and melodies, delivering original songs that are inspired and rooted in the landscape and history of the British Isles. As well as crafting unique and engaging original material, Ninebarrow also take a wide-range of traditional folk songs and rework them in their own, distinctive way.

In 2017, the duo were nominated at the BBC Radio 2 Folk Awards in the 'Horizon' category for 'Best Emerging Artist', one of the highest accolades in their genre.
It is the multi-award-winning duo's modern and inventive take on the folk tradition that seems to be captivating audiences across the country. Not only exceptional singers and musicians, they are also equally passionate about the stories behind their songs. A live session on BBC Radio 2's Folk Show, described by presenter Mark Radcliffe as 'immaculate', has lead to a string of sell-out shows across the UK.
Engaging, charismatic and humorous - Ninebarrow are winning new fans wherever they go. See them live, and you'll quickly understand why.
Music in the Arena is sponsored by Mail Boxes etc.